The mansion at 48 West 89th Street on Manhattan's Upper West Side is an incomparable amalgam of 19th Century class and 21st Century convenience. By Inhabit Editors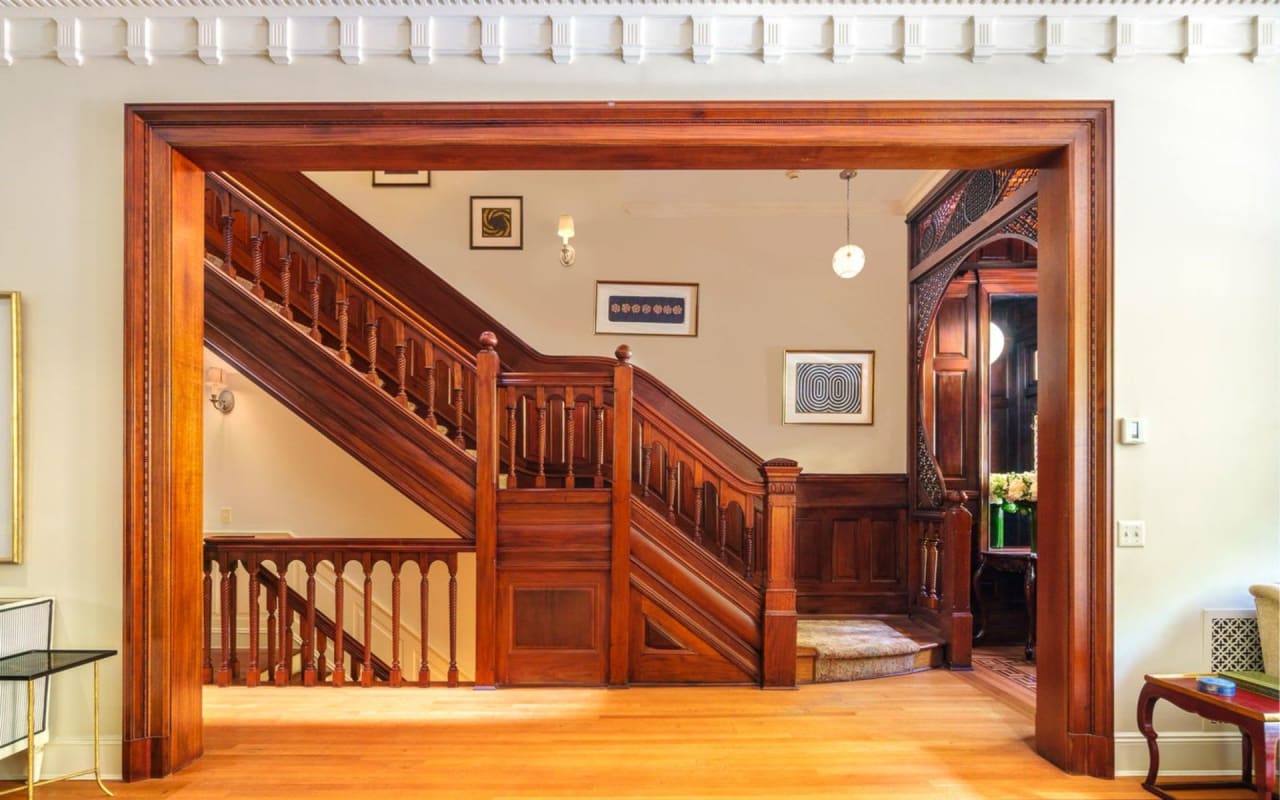 The centerpiece stairway in 48 West 89th Street is original to the 1892 home.


​​​​​​Everyone dreams of living in a stately manor house, hosting grand soirees and sipping vintage Claret in wood-paneled halls. But you'll have a hard time finding the warm opulence of a country estate on this side of the Atlantic — particularly in the heart of Manhattan. Yet, in the remarkable mansion at 48 West 89th Street, all of the roaring fireplaces, hand-turned woodwork, and soaring ceilings that would mark a fine (and refined) royal retreat are in evidence, if stacked a bit higher than in Bristol.
There is no doubt that this Upper West Side home was designed for a gracious style of living. Built in 1892 at the very height of the Gilded Age, the home shows its provenance in its stately dimensions and meticulous craftsmanship, and successive owners have taken every opportunity to improve it over the next century and a quarter. The scale of the building — 20 feet wide, with nearly 7,500 square feet spread under high ceilings over six levels — make it a vanishingly rare find.
This masterpiece of a mansion is a home first and foremost, updated for life in a vibrant city. From the tree-lined street, residents enter the home through a mudroom at the garden level, which leads to a welcoming entertainment room with built-in shelves and a wood-burning fireplace. From there, an eat-in kitchen — clad in Vermont Soapstone, with state-of-the-art appliances tucked into custom cabinetry — sits next to an informal dining room. Toward the back of the garden level is (of course) the garden, a large and richly landscaped outdoor space with multiple seating areas and a built-in grill, as well as a glass-enclosed breakfast room with southern exposure.
For entertaining, the mansion has a separate entrance off the wide stoop into the parlor floor, and welcomes guests through an entry vestibule with the historic woodwork and door. Beyond the entry, the parlor floor opens into a 32-foot-long living room under 12-foot ceilings, where three large windows provide light, and a working fireplace provides atmosphere. Solid wood pocket doors — also original — open onto a formal dining room connected to a well-appointed service kitchen with a dumbwaiter to the full kitchen below. From the back of this second kitchen, a small terrace connects to a staircase descending to the garden.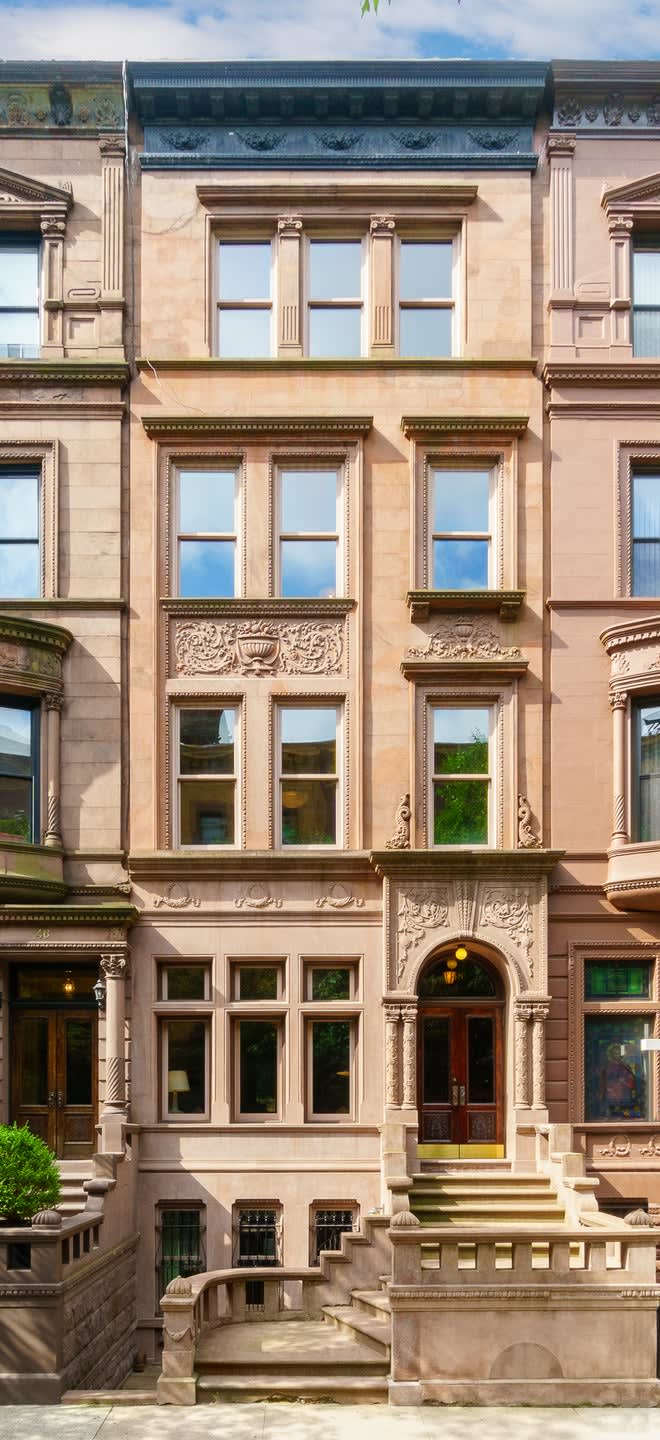 Number 48 encompasses some 7,500 square feet on six levels.​​​​​​​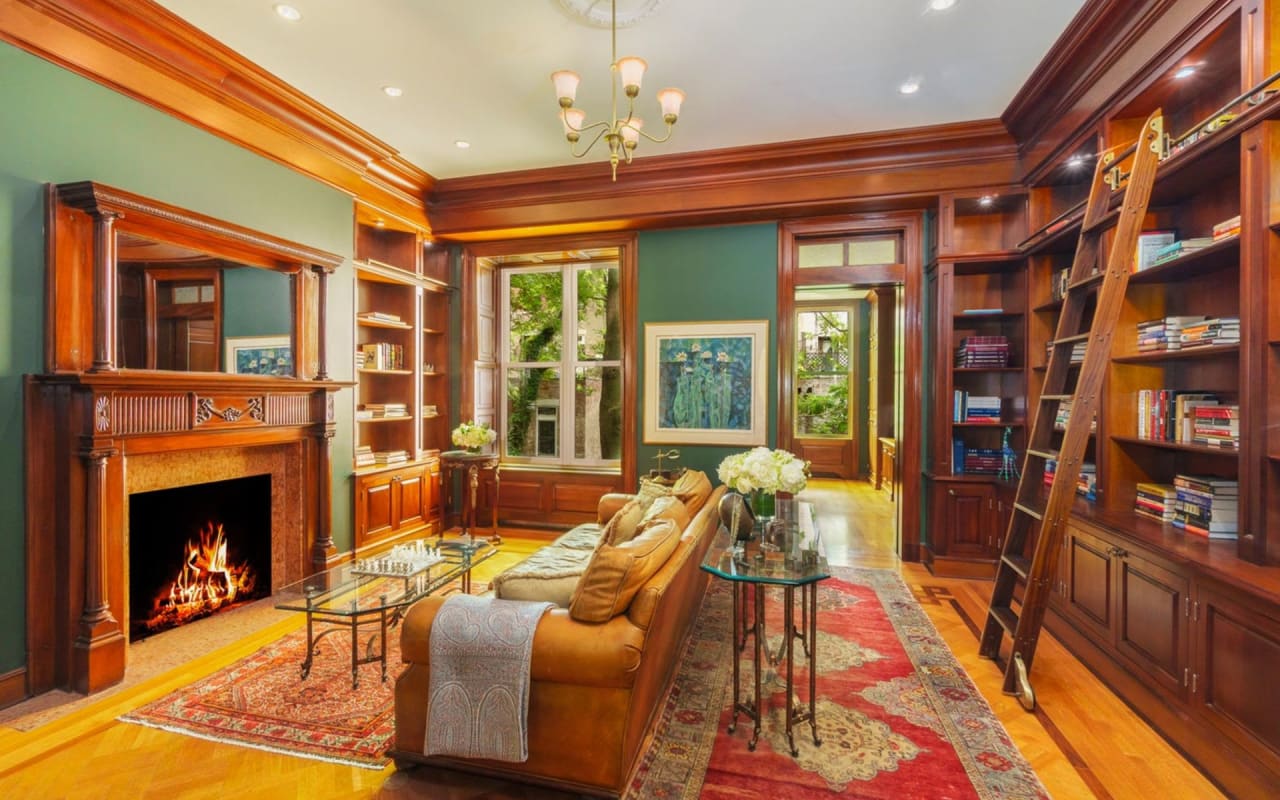 The main staircase — original to the home and sharing the front entrance's artistry — leads up to the quieter parts of the home. Under 11-foot ceilings, a picture-perfect wood-paneled library (complete with a rolling ladder) takes up the back of the house, and leads to a home office hovering over the garden to the rear. To the front, a large bedroom with a working fireplace and an en suite bath is filled with light from large windows, and opens onto a stair landing larger than many Manhattan apartments.

​​​​​​​The next floor up is the master suite, which holds under its 10.5-foot ceilings one grand bedroom linked by an oversized master bathroom to a large dressing room. To the rear, the master bedroom opens to a terrace four stories above the garden for warm weather relaxing, or is made cozy with a fireplace when the outdoors are less pleasant. The fifth and final floor shelters two more bedrooms with en suite bathrooms, copious closets, and natural light from windows and skylights in the soaring, 11.5-foot ceilings.

All this Gilded Age opulence rests on a solid, modern infrastructure including twelve zones of climate control and a full audio-visual system — and on a finished basement with room for a gym or home theatre. The home totals five bedroom suites, four full baths, three powder rooms, quarter-sawn oak floors, and rich prewar detail. And, of course, seven working fireplaces — because that's what one expects in a country estate, even in the heart of the city.