Remarkably authentic, a renovated Clinton Hill townhouse—one of three in its row—exudes artful composure that contextualizes its past in present tense. By E.J. Kelley

​​​​​​​The right remodel fits like a good pair of shoes — and au contraire to the motto of E.D. Burt, the Downtown Brooklyn cobbler whose owner once called this stately townhouse home, the best is not the cheapest.

But the superlative is just what you'll find at 331 Washington Avenue, a pedigreed c.1878 Neo-Grec reborn at the masterful hand of designer-owner Michelle Smith.

Measuring in at just over 4,500 square feet, 331 is a well-sized single-family residence with four bedrooms and four-and-a-half baths, spacious enough to grow into yet intimate enough to exude effortless warmth. The home remains faithful to its original floor plan, spare a round of musical rooms played during the renovation that shuffled the kitchen up to the first floor and saw its former habitat reconfigured as a garden-level apartment, easily convertible to a standalone one-bedroom unit.

For Smith, whose Studio MRS Interiors headquarters nearby in a storefront on DeKalb by Fort Greene Park, it was the chance of a lifetime—the house that broke the once-avowed Manhattanite and convinced her to give Brooklyn living a go.

"It was the space, the details, the opportunity to create en suite baths and closets," Smith remarked. "And, maybe mostly, the restaurants in the neighborhood."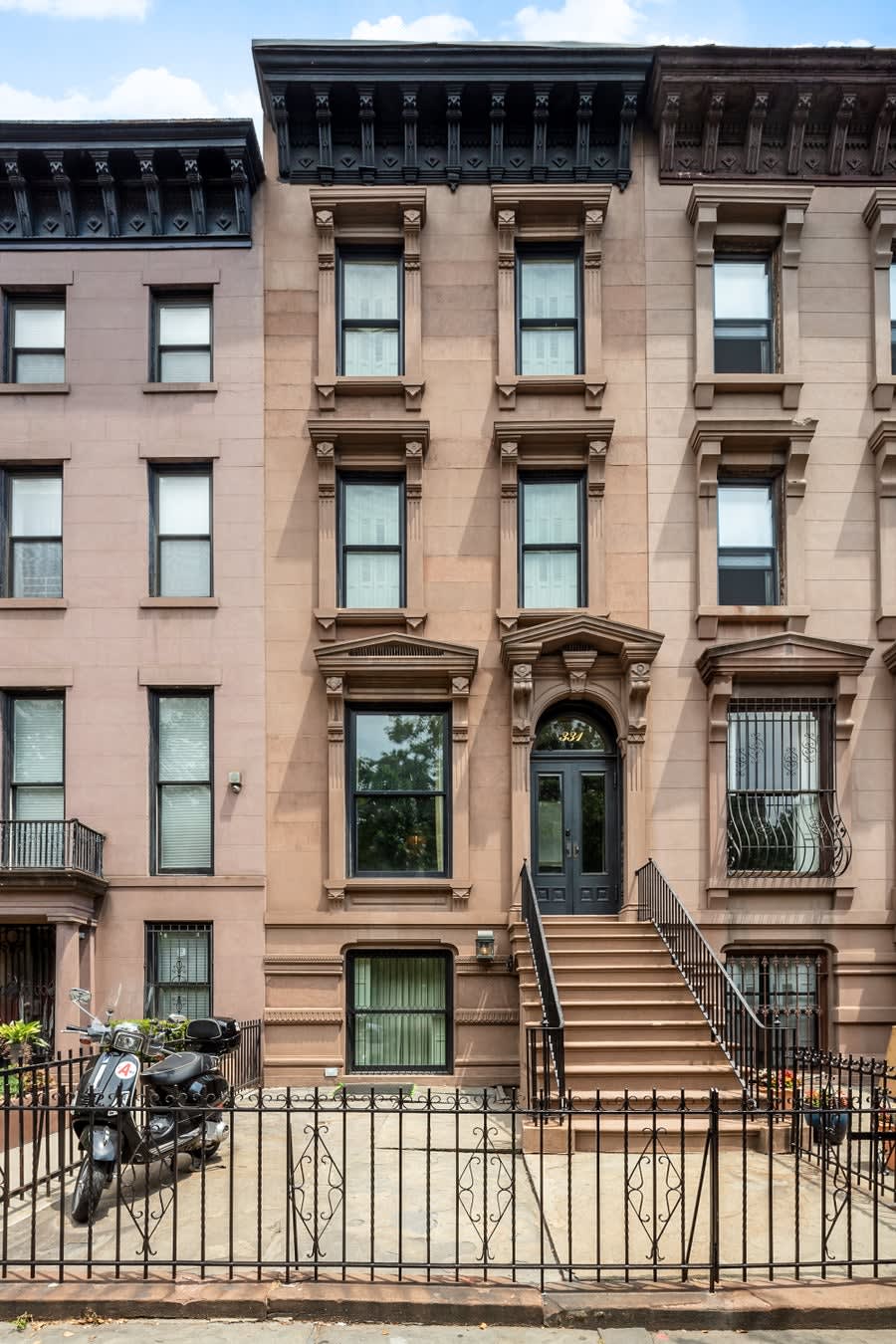 RULE OF THIRDS — The brownstone at 331 Washington Ave. is one of three in succession on its block attributed to Brooklyn's Parfitt Brothers, a trio of sibling architects whose buildings still reign among the borough's most beloved.
The graceful three-story brownstone is attributed to the Parfitt Brothers, built just three years after the sibling architects set up shop stateside. If you've ever been sidewalk-strolling through Brooklyn and encountered a pre-war edifice that prompted your inevitable swiveling-of-head with near magnetic impulse, the Parfitts are probably to blame. Their career in the borough spanned more than four decades, and the British-born trio is credited with producing some of its most prolific structures, working all about King's County but extensively in Park Slope and its half-dozen prominent neighbors ending in "Hill" or "Heights."
---
"It's filled with ideas and items I loved that clients didn't. They always get first dibs on beautiful things—I call my own houses 'a beautiful combination of the rejects.'"
---
Perhaps the greatest testament to the home's construction is the breadth of period fabric preserved by Smith, who tackled the renovation with a guiding mantra of "restore what you can't replace with better," at times requiring great lengths to work around. Such was the case crafting a new eat-in kitchen in the home's historic dining room.

"The fireplace and niche made it so that a conventional layout wasn't going to happen," she commented. "But I knew I could make something special and interesting."

She parked a vented 44" AGA Legacy range into the niche, with the sink, counter space and low cabinetry flanking the fireplace. Original pocket doors bridge the living room. The time-weathered ceiling was intentionally retained in visual poetry.

​​​​​​​A rambling two-story rear addition, added by the Burts in 1889, stretched another canvas. At parlor level, it holds a new formal dining room with a fireplace and oversized casement windows overlooking the garden. The adjacent coffee pantry, crafted from existing cabinetry, is inarguably Smith's most beloved feature of the home. A floor below lies the classic screen porch, a retrofit of its enclosed predecessor harkening to her Louisiana bayou upbringing. Above it all sits a spacious terrace, a private planter-boxed oasis accessed off the primary suite.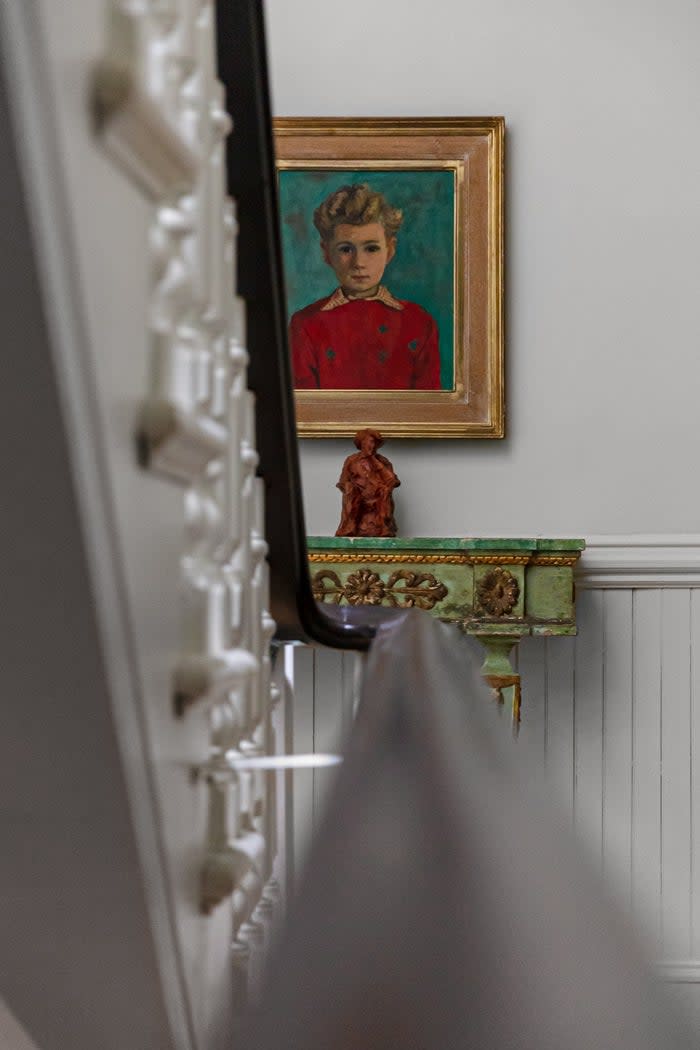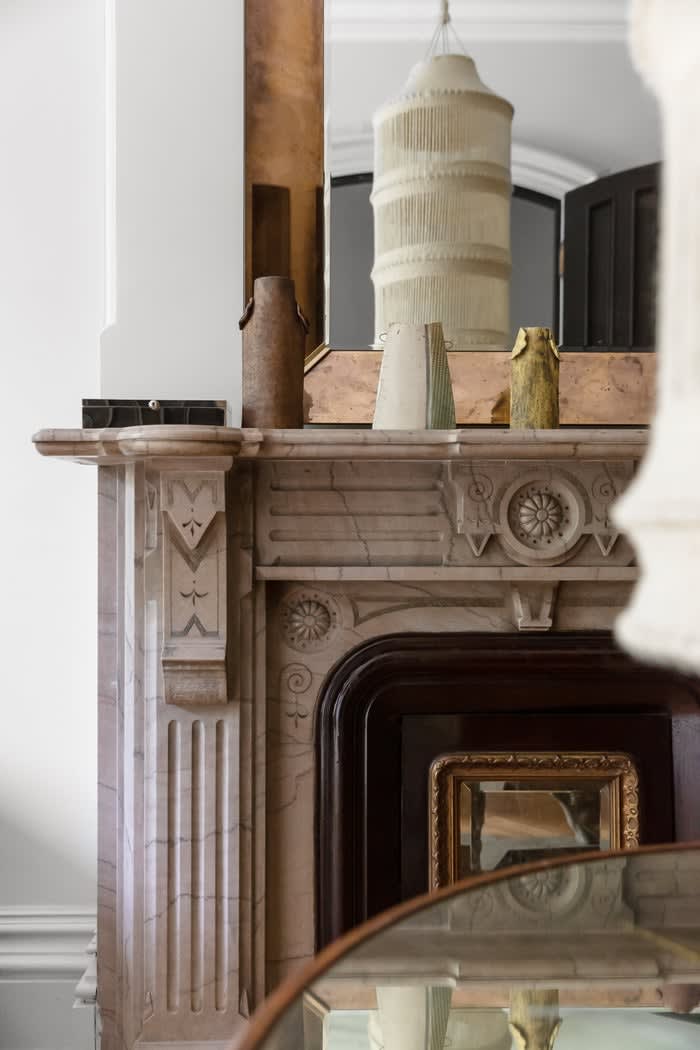 World of Interiors profiled the remodel in their February 2018 issue with photography by Simon Upton, fulfilling two dreams for Smith. "Their accepting it speaks a lot to the uniqueness of the house's bones — the gothic mantels, the interesting shape of its extension, the original dining room posing as a kitchen."

A true Brooklyn original, the finished product presents a unique opportunity to own a timeless designer's home, in a location perhaps even more desirable now than the day it was built.

​​​​​​​"It's filled with ideas and items I loved that clients didn't. They always get first dibs on beautiful things—I call my own houses 'a beautiful combination of the rejects.'"